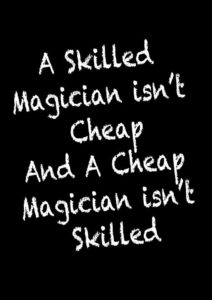 Your next event takes place usually only once a year. That's because it's special. Do yourself and your guests a great service and don't force a competition on price for the services you need.
The fee you offer to your entertainment will be a reflection of the quality, experience AND value you expect from them. Not all of entertainers are the same. There are a few that are great. Many more are good and yes, sadly, there are some full time performers who are not very good. While it is unwise to pay too much, it's worse to pay too little.
If you are shopping based solely on price, then chances are you will choose someone who is way under your budget, thinking that you are saving money. You're not. When you pay too much, you will lose only a little money – the difference between what they are charging and your expected budget – that's all. However if you pay too little, you'll lose all of it because the entertainer you hired was incapable of doing the job they were hired to do. Besides, what are you going to do with the money you 'saved'? Get bigger table decorations that will die in a week anyway?
Would you order a steak at McDonald's? I hope not, yet there are people who would. I would much rather you order the steak at two or three times the price from The Outback Steakhouse and receive exactly what you expected – a fantastic meal experience.
Unless you want a $2 steak.
Don't be disappointed, be realistic. Good entertainment costs good money but great entertainment will be remembered for weeks after the event is over.
You should start with an entertainment budget of (at least) $20 – $25 per person. That's only a little bit more than a movie and a little bit less than the per person meal cost. If you think that is too much, that's ok but if you can find an entertainer who is willing to do a show for $5 per person – remember, that is cheaper than a full dinner at McDonald's – and the quality will be about the same.
Match the value you expect to the fee you offer.