Peter Mennie – Canada's Clean Comedy Magician
"YOU WERE AWESOME!!"
Nottawasaga Inn & Resort
"Thank you. It's my joy!"
In the Special Event Entertainment industry, experience is the most valued commodity. After thirty years of performing at well over a hundred gatherings annually, in front of every group imaginable, Comedian, Magician & Entertainer Peter Mennie has become an expert at giving Canada's Corporate, After Dinner, Gala, Awards Banquet and Family audiences the Funniest Clean, Comedy Magic Show they will see all year! 
"They Will Love It!" - Peter Mennie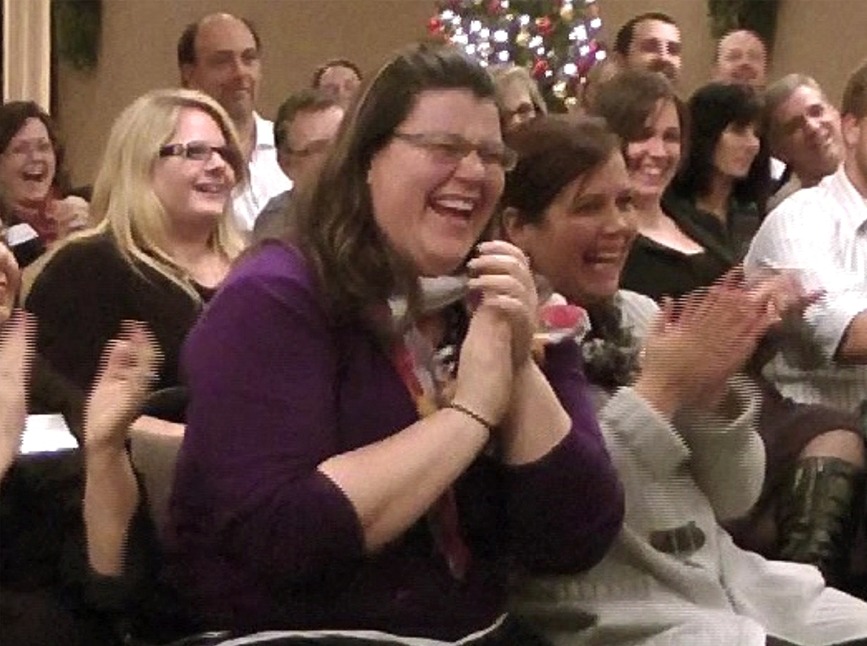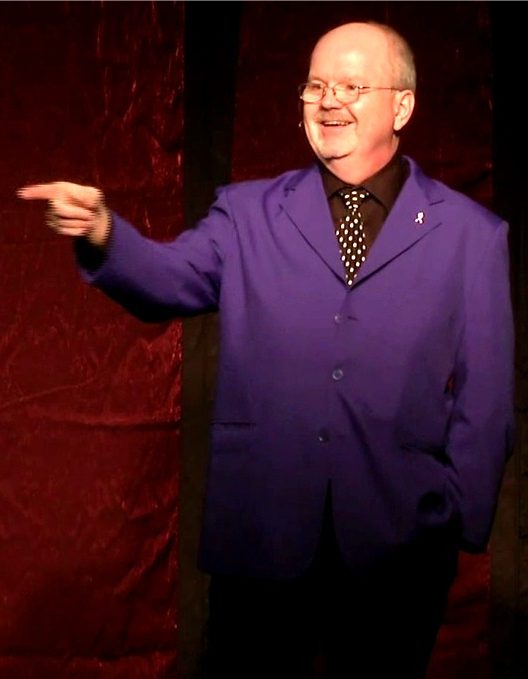 "You kept all of the guests laughing at your one-liners and gasping with amazement at your illusions!"
TW Properties
My Stage Performance is the recipe for fun. Not only is it a Comedy Magic and Mind Reading Show, it's a Game Show style performance that has huge audience engagement, creates great camaraderie and best of all is just good, clean, fun entertainment. Everyone is encouraged to make some Choices, take some Chances and with just enough Chicanery*, I'll reveal their selections.
*Chicanery - Deception by artful subterfuge or sophistry : Trickery (Websters)
"YOUR SHOW WAS PERFECT!"
Showman's League of America
Who knows*, one of your friends might even win 'One Million Dollars in Cash and Prizes - or Less!"
*Actually I already know who wins, cause that's my job!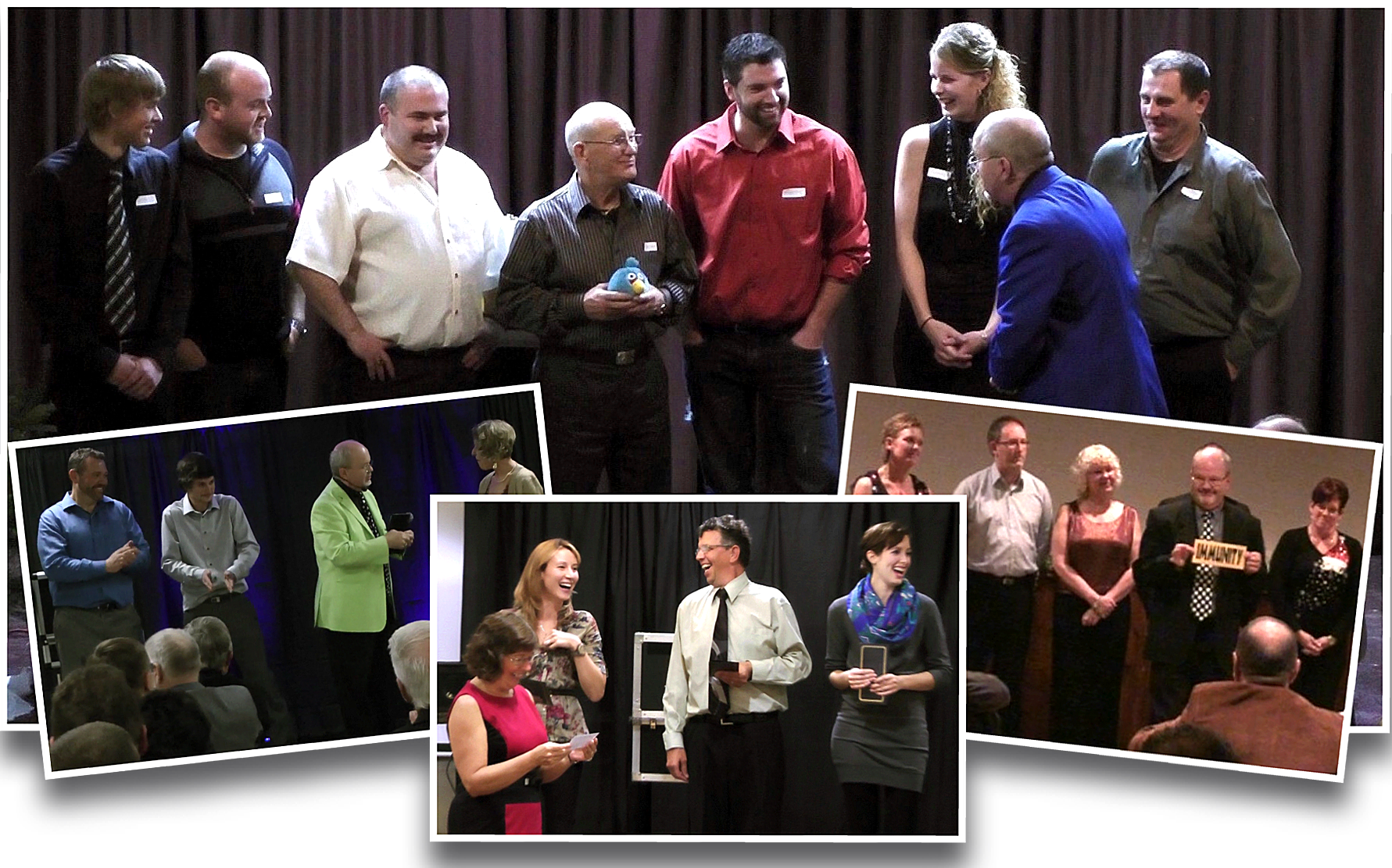 I take great pride in being a CLEAN COMEDY Magician and making my magic show a jaw dropping combination of 'how-did-he-do-that' Magic & Mind Reading, 'laugh out loud'  Comedic Interaction and'never-embarrassing' Audience Involvement that maximizes both the amazement factor and the laughter quotient - live on stage!
How do I do it? I'll never tell! Why do I do it - because people rarely remember the food, the flowers or fancy frills but they always remember having fun! And in my case, having fun being fooled!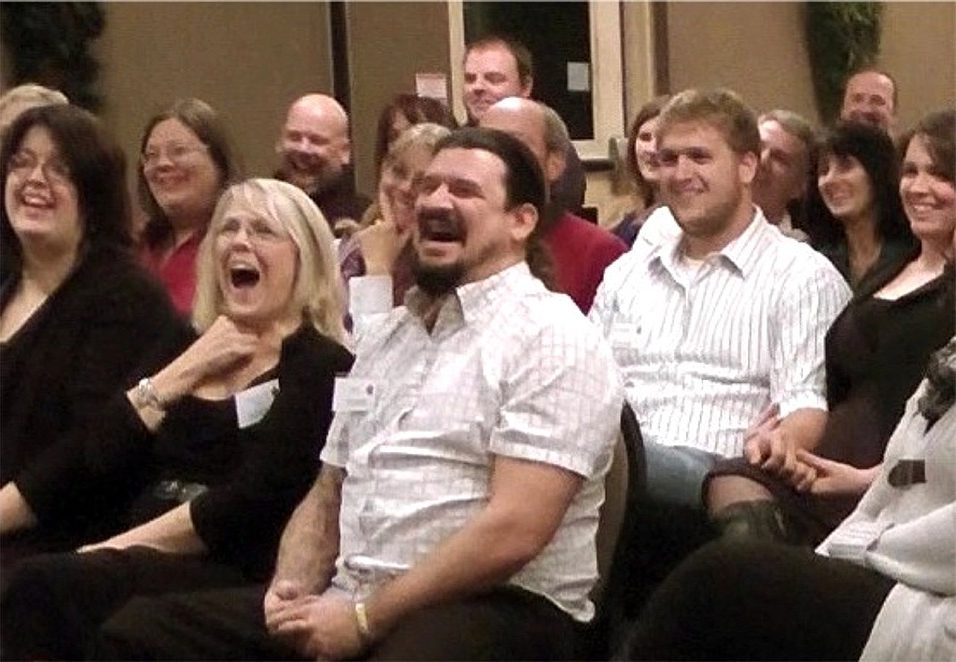 "Everyone that I have spoken to congratulated me on obtaining you for our Anniversary. They thoroughly enjoyed your performance!"
Independent Order of Oddfellows
STROLLING MAGIC SHOWS
Before the Meal, throughout a Trade Event or during a Reception, I will mingle throughout the room entertaining with a variety of personal, interactive magic to prepare guests for the fun evening ahead. These performances happen right in their hands and are just for them. Your guests actively participate in creating the magic and I'll get them laughing, talking, and best of all, having a great time together! Dead time will disappear!
"You were excellent and really know how to mingle and perform at the same time! Kudos to you! It was definitely a success to have you at our event to add to the atmosphere!"
Alexandra Hospital Foundation
"Compliments abounded about your talents and charm.
You was a perfect fit!"
Men Who Cook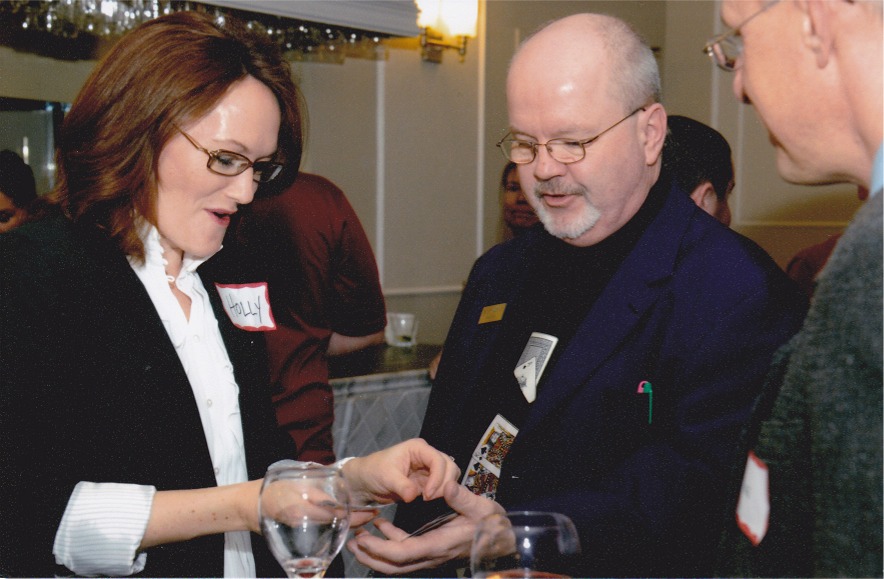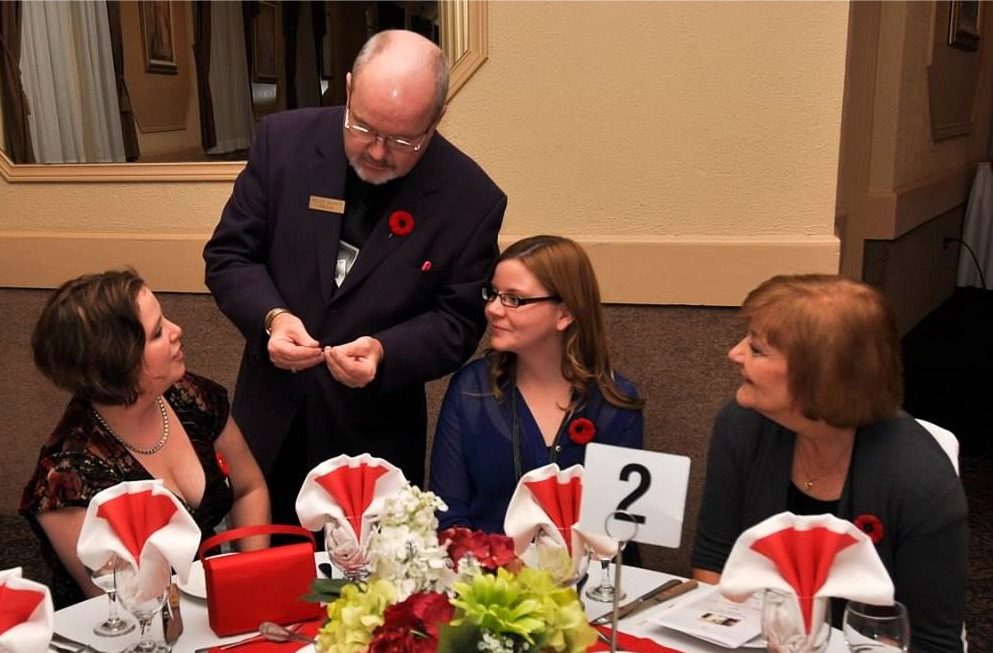 Are you a Magician or a Comedian?
"Most clients invite me to complete their event in a friendly, lighthearted and non-embarrassing way because they want their colleagues and friends to leave with a big smile on their face. That's why my performance is both funny and amazing."
Is the humour actually Clean & Appropriate?
"Of course! Your event is the likely the most important function you will have this year and I take great pride that there isn't any, nor has there ever been any inappropriate or rude material in any of my shows. You will ot be disappointed"
Do you need any Special Equipment?
"The simple answer is no. No tables, chairs or microphone. I will bring everything I need for the show. I also provide you with all of the promotion material you need so you can get your friends excited about the show."
How much Space do you need?
"Since I invite a number of audience members to participate during the show so I will need a minimum 16' x 8' (w/d) performing space. For groups of fifty or more I'll need a riser in a central location with good sight lines."
What about Seating?
"My shows are very visual. All seating should be as close to the front of the stage as possible and not off to the back or sides. It's not that I don't want you to see something you shouldn't, rather, I want you to see everything you supposed to!"
What is your fee?
"My fees are comparable with other high quality Canadian variety performers and your show will be customized to your individual needs. Don't worry, I have a show that will fit your budget."
"You made us feel comfortable and confident that everything was running smoothly. You kept them ENTERTAINED, CAPTIVATED and AMAZED all at the same time and with such ease and professionalism. It was a pleasure working with you!"
Western Fair District
"It will be my pleasure to work with YOU on your event and I know I can make you look like a Master Organizer. So much so that you may even find yourself leading the standing ovation!"
Peter Mennie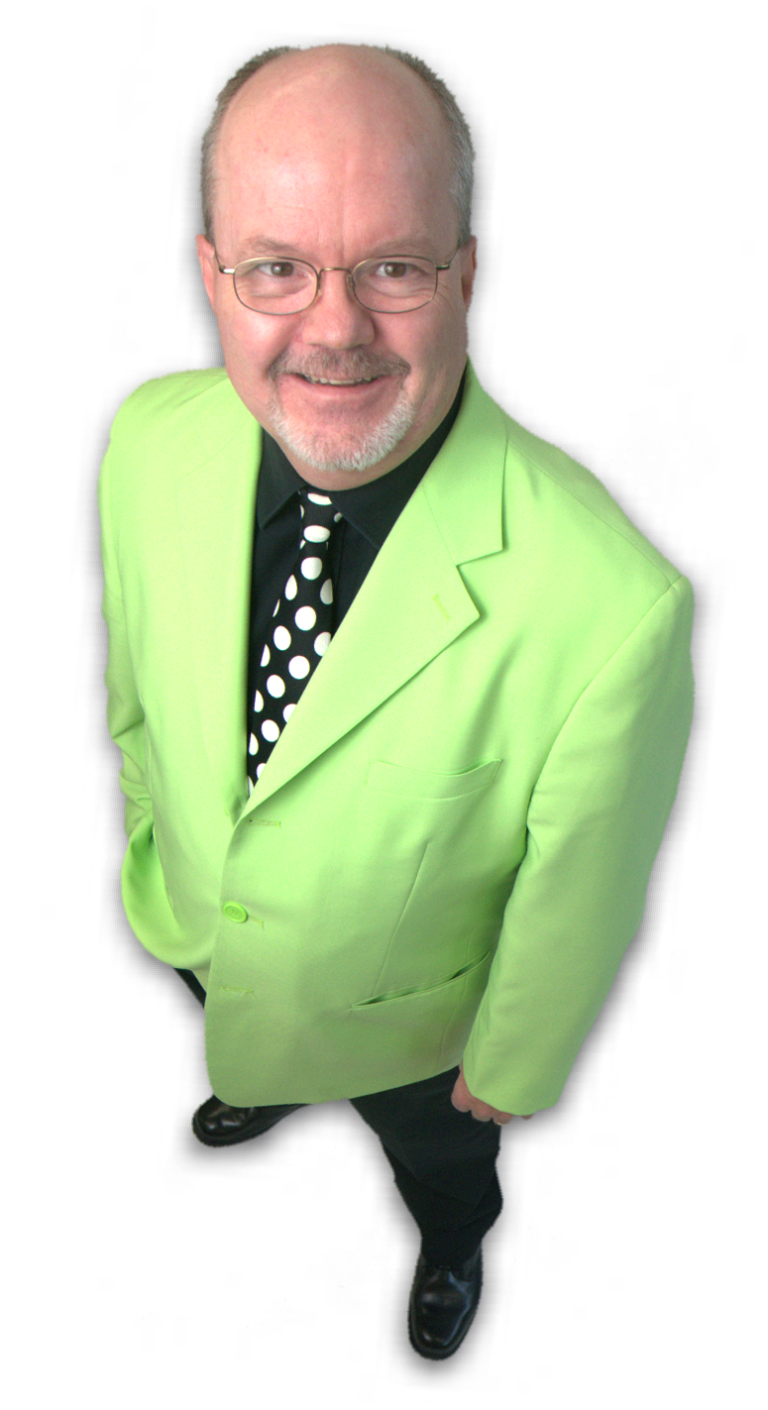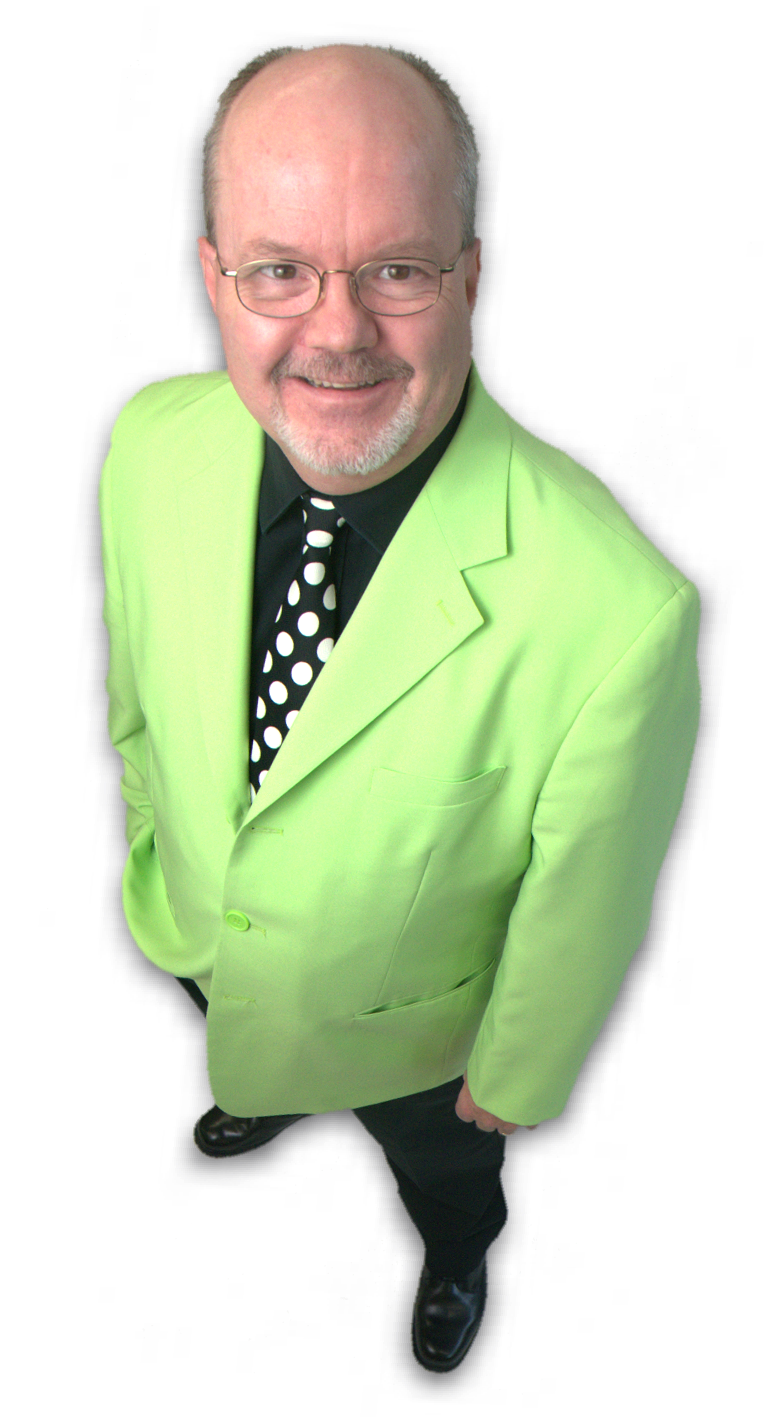 CONTACT PETER
OK, let's do this! It will be a privilege and a pleasure to entertain your friends, so let's get started. I trust you've reached the decision that I am one of your best choices to help create a successful event! Please fill out this form so that I can connect with you and send you some more information on how my participation can be customized just for your gathering. The more information you can supply, the easier it is to answer with a complete offer. I'll reply before the end of business today (or sooner!),
Or you can call me anytime:
1-519-438-4003