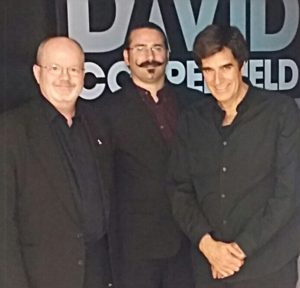 I'm not a 'fanboy'. When I see someone whose magic has entertained and inspired me, I don't run up and say 'Mr. Copperfeild, um, sir, can I have your autograph? Please! Please!' (Though I have met him on a few occasions).
Rather, I'm more of admirer of the work that they do.
From here on in it's going to sound like I'm name dropping. You will know some of the people I metion but a lot you won't. The one thing they all have in common is that they all have a love of the Art of Magic and they gather once a year in Las Vegas for Magic LIVE. Some of the names may my surprise you.
There is of course David Copperfield. But all of the LV headliners show up for a few hours. Mac King (most of the event), Criss Angel, Matt Franco, David Goldrake, Xavier Mortimer, Murray and all of the magicians in Masters of Illusion.
The guy who built most of the illusions for the stars during the 70's and 80's was there. The guy who designed and created them was there.
And then my inspirations from the start of my career were there: Joseph Gabriel, Lance Burton, Mr. Electric. Last year I met the founder of The Magic Castle. Siegfried. Amazing Jonathon. Wayne Dobson. Cyril Takayama.
There were stars there who you'd never have thought would be there. Steve Valentine (from the TV show Crossing Jordan); One half of The Property Brothers – Jonathon Scott; Cinematographer (Lost, Batman vs. Superman, 300) Larry Fong. Yep, all magicians and fans. And each one of them had to pay for a registration to be there. Why? because when all 1600 of us are under one roof, we are all pretty much the same – fans of magic itself and we all have something to learn and appreciate – from each other.
And Mark Kalin, Kevin James, Kosmo, Adam Trent, Bill Malone, Gene Anderson, Richard Kaufman, David Penn, Sheldon Casavant, Chris Kenner……