Way back in the 80's (when we all had a lot more hair!) I performed, on average, 6 nights a week, 40 weeks a year.
Performed is a bit of a misnomer. In the beginning stages of touring I was more of a Technical Director and Announcer for the hypnosis show I helped create. My job was not only to bring on the star and be his comic foil, but also to mix and light the show. Later on, I became the opening act performing illusions on a night club stage (but that's another blog).
I still can't believe that we carried what we did to make that happen considering it was just his mic and music (on cassette 'carts') that we needed to play back.
The speakers we used were two Yamaha S-4115H PA speakers, each delivering a massive 100 watts of power! They were 24" wide and 33" tall and weighed 119lbs (EACH!). We often used them as side tables. The mixer was a Yamaha EM200 Eight channels (we only needed 4) and 85 watts of output in stereo! Its weight was 65lbs, without the roadcase, and about 24" square.
For lighting I used 6 Par 38 cans on two bars run by a DS3000 dimming pack.
A lot has happened since then. Today I travel with two Mackie DLM-8 speakers that are 1/6 the size of those Yamahas, are 10 times the power and weigh only 22lbs! The mixer I use now is the Mackie ProDX-4 that I run wirelessly through my phone. It's only 6 inches across.
Thirty-five years ago when we were doing this, we had to carry everything in a trailer. Today it fits in the back seat.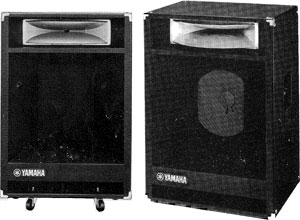 THEN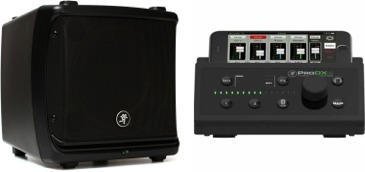 NOW