Who Is Peter Mennie? Magician? Producer?
I'm not OCD. I'm CDO (that's OCD in alphabetical order!), which means I'm Compulsively Driven to Organize. Each aspect of every show that I perform or produce is prepared right from the time the audience sits down until they leave the auditorium.
I knew in high school that I wanted to make entertaining my life's joy. So, right after graduating with a degree in Theatre from Western University I wrote, produced, directed and starred in "Peter Mennie's Theatre of Magic" - the largest locally produced magic and illusion show ever in London. From there I went on the road as the technical director and Opening act for the Vincent Anthony, The Man with the Million Dollar Mind Hypnosis Show.
Coming off the road I went back to school for a degree in Television Broadcasting and over the last three decades produced 12 network television specials, two television series (both for Rogers), co-hosted a daily morning show and appeared well over 250 times on various talk shows since the early 2000's
In 1999 I co-founded Original Kids Theatre Company, the largest children's performing arts company in Canada and became it's first Technical Director and Theatre Manager. It's alumni are a who's who of young theatrical stars including Rachel McAdams, Megan Park and Amber Marshall.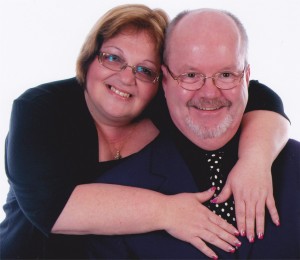 All this while being domesticated by the same lady for almost 32 years!
Now I'm back at it, Performing, Stage Managing and Producing full-time all over the world.
Why? Because I love it!
Me with my late wife,
Milly Ann